Copper Chromium Zirconium Contacts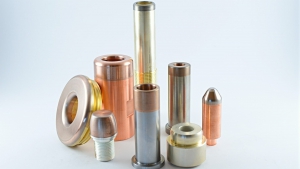 AGM makes Plunger and Tulip contacts for High Voltage GIS & AIS
Switchgear. Tungsten Copper is electron beam welded on to Chromium Copper
bases & CNC Machined to print. We employ electron beam welding which
ensures quick producon and reliable quality of joint. CNC turning and VMC
machining ensures part to part repeatability and consistency in dimensions.
AGM uses only Oxygen free hard drawn Coppers for High Voltage Contacts.
The Oxygen free Copper or Copper alloys when welded / brazed on to Tungsten
Copper offers excellent results. Due to absence of oxygen, hydrogen
embrilement is eliminated and a welded / brazed joint of high integrity is
achieved.


Bu kategoride herhangi bir ürün bulunamadı!